SolarDek Panel Drain
20 november 2023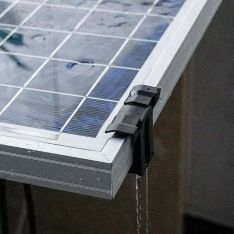 Discover the ultimate solution for maintaining the efficiency and longevity of your solar panels with SolarDek's new PanelDrain. This innovative water drain clip is specifically designed to enhance solar panel performance by eliminating water and dust accumulation, making it perfect for low-tilt installations from 3° up to 15º.
PanelDrain's adaptable design ensures compatibility with all frame sizes, including 30mm, 32mm, and 35mm. This provides optimal water drainage for any solar panel setup, no matter the size or configuration. Crafted from a flexible and recyclable material, PanelDrain can be easily bent and adapted for various frame sizes. This promotes an eco-friendly and sustainable approach to solar panel maintenance, allowing for reuse and minimising waste.
Built to last and made from high-quality, automotive-grade plastic, PanelDrain is UV protected and resistant to temperatures up to 105ºC. This ensures long-lasting durability and performance, even in harsh outdoor conditions.
PanelDrain features a unique, market-leading anti-clog design that prevents dust accumulation. This helps maintain clean solar modules and boost overall system performance, making it the ideal solution for keeping your solar panels operating at peak efficiency.
Effortless installation, our simple, self-fastening clip design allows for effortless installation on solar panel frames. With PanelDrain, you can quickly protect and optimize your solar investment, ensuring maximum performance and longevity.
Experience the PanelDrain advantage, by automatically removing stagnant water and preventing the formation of soiling patterns, PanelDrain reduces power generation losses and enhances the lifespan of your solar panels. Crafted from anti-aging, temperature-resistant polymer material, PanelDrain is built for long-term outdoor use, providing reliable protection for your solar system.
Say goodbye to the negative impact of rain and dust on your solar panels with SolarDek's PanelDrain.
Dit artikel is 20 november 2023 geplaatst door: Deks Industries Europe