Photovoltaic systems for Danieli - Tradition meets high-tech
29 augustus 2022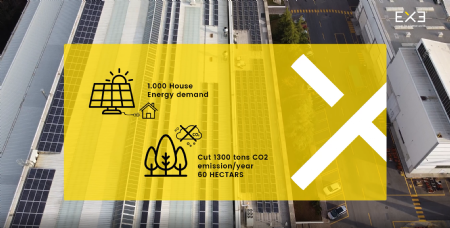 Danieli and EXE Solar – a successful combination of large-scale traditional industrial production and the corresponding production hall capacity with hundreds of high-tech photovoltaic modules on the many roofs. The result is a high degree of future-oriented ecology and sustainability through the use of independently generated electricity.
Danieli & C. Officine Meccaniche S.p.A. is a traditional Italian company headquartered in Buttrio in the province of Udine. Founded in 1914 by the Danieli brothers, today it operates a multitude of plants worldwide with over 8,500 employees and a turnover of more than €2.7 billion. Today, Danieli is one of the world's leading suppliers in the field of plant engineering for the metallurgical industry. Among other things, the company manufactures rolling mills, continuous casting plants, pipe mills and complete blast furnaces.
The giant Danieli headquarters in Buttrio cover an area of more than 32 hectares. Around a third of this area comprises covered production halls – perfect for using to generate electricity. To do this, Danieli makes use of the branded products of EXE Solar Srl. from Bolzano. "In Buttrio we have already equipped all of the available roof surfaces – a total of 9 hectares – with EXE photovoltaic module plants with a nominal output of 3 MW," reports EXE Managing Director, Günther Mederle. "This adds up to a total generated capacity of 3.3 million kWh of electricity per year, thus avoiding emissions of around 1,090 tonnes of CO² every year. A real contribution to climate protection and sustainability."
DANIELI in cooperation with EXE Solar
Dit artikel is 29 augustus 2022 geplaatst door: EXE Solar