Event: IRES2023 - 17th International Renewable Energy Storage and Systems Conference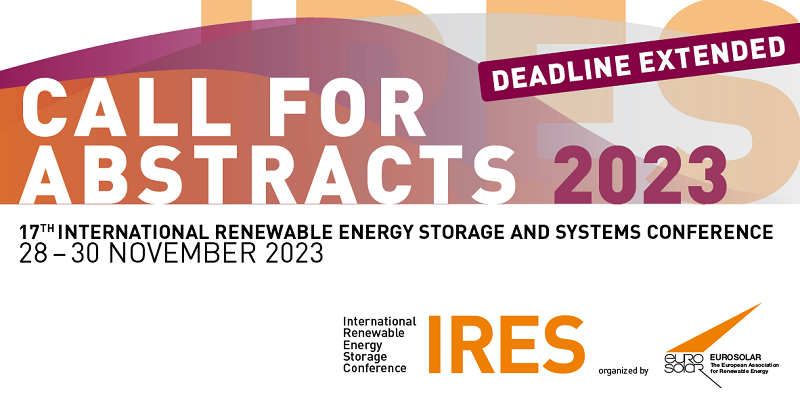 Due to high demand to present at the 17th International Renewable Energy Storage Conference, EUROSOLAR is pleased to announce that additional spaces have opened up for abstract submission until July 21. IRES23 is held from November 28-30, 2023 in Düsseldorf, Germany, as well as online. IRES is one of the world's premier scientific conferences on this topic of its kind.
Experts from storage systems, technology and science are invited to submit abstracts on their current research work, case studies and results in the field of renewable energy storage and systems, from batteries to thermal systems, fit-for-purpose green hydrogen and other energy carriers, to storage as heart of the larger RE ecosystem. Relevant and key presentations in the fields of policy, finance, business and law are also welcome. The focus is not only on decarbonized industrial processes through the use of renewable energy storage and related systems – but also on the rapid transformation of the economy as a whole. The conference is organized by EUROSOLAR, the European Association for Renewable Energies e.V., proud to work with Messe Düsseldorf and the decarbXpo, Decarbonized Industries exhibition.
The task of the IRES Scientific Committee is program design, abstract and paper peer review, and global networking of relevant institutions. The Committee will be cochaired by electrical engineering expert Prof. Dr. Aleksandra Saša Bukvić-Schäfer, of the University of Applied Sciences Hamm-Lippstadt, Germany, and PTX pioneer and author Dr.-Ing. Michael Sterner, of the Regensburg OTH Research Center for Energy Networks and Storage Systems, Germany from 2023 to 2025. Their joint statement says: "Renewable Energy Storage and Systems Technology is the backbone of our global infrastructures. We welcome the most exciting and relevant contributions from across Europe and the rest of the world because IRES is the leading voice, showcase, and platform for this quickly expanding field. "
International Platform on Storage Systems for Renewable Energies
Since 2006 the conference has become an international platform for representatives from science, research and politics - also focusing on essential infrastructure. "The rapid shift to a 100% renewable society and economy is essential for global peace and climate stability. This requires a massive, diverse and distributed renewable energy storage and systems infrastructure across all forms of renewable energy, from heat to electricity, from sector coupling to system integration. The IRES is focused on this, and the world's largest and most significant scientific renewable energy storage and systems event of its kind." said Professor Peter Droege, President of EUROSOLAR and Chair of the IRES organizing committee.
Submission of Abstracts
The deadline for submitting an abstract is July 21 (deadline extended), 2023. Submitted abstracts will be reviewed by the Scientific Committee and, if positive, selected for the program as an oral or poster presentation for the upcoming conference. The conference is presented as a hybrid event with Messe Düsseldorf. All instructions for the Call for Abstracts can be found here.
The IRES 2023 conference will focus on storage in the dynamic and rapidly changing context of distributed renewable energy systems and their advanced ability to link both energy and user/producer communities: Energy storage and sector coupling: connecting the mobility, transport, thermal and power sectors.
Authors are invited to submit research and project abstracts addressing the following topics for the IRES Conference:
STORAGE TECHNOLOGIES
NETWORKS AND SYSTEMS
SYSTEM ANALYSIS AND PLANNING
STORAGE IN DISTRIBUTED SMART ENERGY RESOURCES AND MANAGEMENT SYSTEMS (DER and DERMS)
STORAGE IN INDUSTRY AND INDUSTRIAL PRODUCTION AND PROCESSES
STORAGE OPPORTUNITIES SPECIFIC TO EMERGING COUNTRIES
STORAGE CITIES: MUNICIPAL ENERGY SUPPLY AND STORAGES
STORAGE STORIES: WORLDWIDE ENERGY STORAGE CASE STUDIES

About the International Renewable Energy Storage and Systems (IRES) Conference
The International Renewable Energy Storage and Systems (IRES) Conference is the world's premier refereed science and technology conferences in renewable energy storage and related systems for renewable energy. The conference provides a comprehensive scientific treatment of energy storage technologies and systems that can enable the global transition to decarbonization of economies and their industries through renewable energy systems. The IRES conference is organized by and trademark of EUROSOLAR, the European Association for Renewable Energies e.V.
28

november
-
30 november 2023
08:00 - 17:00
EUROSOLAR
Messe Düsseldorf