AIKO and Segen sign Distribution Agreement for the UK and European markets
27 oktober 2023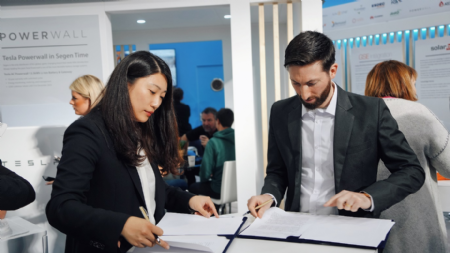 Press release
23 October 2023 - for immediate release
AIKO and Segen sign Distribution Agreement for the UK and European markets
Global new energy technology company, AIKO, signed a distribution arrangement with Segen, the UK's leading distributor of solar PV and energy storage systems, at Solar & Storage LIVE in Birmingham last week.
The agreement comprises the supply of AIKO's innovative, high efficiency ABC (All Back Contact) modules for the first time to Segen's UK and European markets.
AIKO won both the Intersolar Award and Red Dot Product Design Award for its ABC modules, which combine N-type solar cells with passivating contacts and back-contact architecture to create some of the world's most powerful solar panels.
Marina SHI, Regional General Manager of Northern Europe, AIKO, and James Galloway, European Technical Director, Segen signing the Distribution Agreement
"AIKO attaches great importance to establishing long-term cooperative relationships with Segen for a stronger presence in Europe and we are confident that Segen will succeed in broadening our reach maximising the benefits that solar energy offers towards a sustainable future" announced AIKO's CEO, Tiger LU.
Segen's Managing Director, Dave Rice, confirmed "We're delighted to introduce Aiko Solar's innovative N-Type ABC technology panels into our offering. With panel efficiencies of up to 24%, they're the most efficient commercially available panels worldwide and boast impressive robustness, with annual performance degradation of ≤0.35%, backed by a 30-year performance warranty."
"The three models we have launched suit a wide range of our customer's needs" said Liz MacFarlane, Segen's VP Sales. "The 600-620Wp 72 cell modules are especially attractive for maximising project profitability in commercial and industrial applications and, for residential and light-commercial applications, the 445-465Wp all black and white back sheet panels are not just highly efficient but also have excellent visual appeal with a very pure black aesthetic."
"This is all thanks to the all-back contact (ABC) technology which eliminates grid line shading losses whilst also creating the clean visual appearance" added James Galloway, Segen's European Technical Director. "Credit to Aiko for this achievement and testament to their continued cell R&D and production investment for well over a decade now."
A growing number of households in the UK and Europe are sourcing cleaner, cheaper and more secure energy through solar panels, and there remains huge potential in terms of commercial buildings, schools, warehouses and car parks. The ABC modules, which can achieve a record efficiency of 24.27%, will be widely deployed across the residential, commercial, and industrial sectors.
For more information, visit www.aikosolar.com and www.segen.co.uk
Notes to the Editor:
AIKO (https://aikosolar.com/)is a leading global clean energy technology company that manufactures photovoltaic products and all-in-one solutions for various scenarios, including solar cells, ABC (All Back Contact) modules, inverters, battery storage, and energy management systems. AIKO's mission is to empower global energy transition towards a carbon-free society and the Company is committed to pursuing ultimate technological innovation to speed up the process to reach carbon neutrality.
Segen Ltd (https://www.segen.co.uk/)is the UK's leading renewables distributor of Solar Photovoltaic (PV), energy storage systems, mounting, and EV chargers. Incorporated in 2004, Segen currently operates from offices in the UK, Germany and South Africa.
Dit artikel is 27 oktober 2023 geplaatst door: AIKO