Pan-European AIKO Installer Award 2023 kicks off – Participate now!
29 september 2023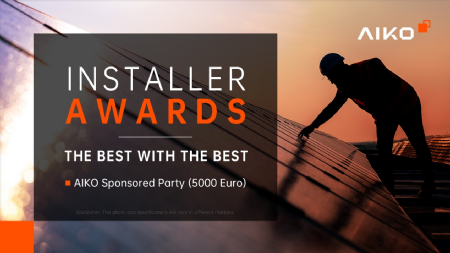 Düsseldorf, September 27, 2023 - AIKO, a global-leading clean energy technology company with currently the most efficient solar modules in the world, invites installation companies in Germany, Austria, Switzerland, Italy, the Czech Republic, the Netherlands, Belgium, Luxembourg, the UK and Spain to take part in the company's THE BEST WITH THE BEST Installer Awards 2023. The attractive prizes range from boxes of beer to a 5,000-euro AIKO Sponsored Party. The promotion applies to module orders until the end of the year.
Installers are the most important point of contact with end customers, be they the operators of a private roof system or a large PV power plant. AIKO values the achievements of its partners for the energy transition and is now honoring them with the Installer Awards 2023: For module orders placed by December 31, 2023, the manufacturer awards attractive and sensible prizes, staggered according to the cumulative order volume. AIKO customizes a variety gifts of various styles for competition regions in different countries, including drones, winter suits, electric scooters, outdoor backpacks, and fantastic sponsored parties, etc.
The ABC modules developed by AIKO, a technology company driven by innovation and pursuing cutting-edge technology, rank first in the world with a deliverable efficiency of 24%+ and provide 15% higher power generation under the same area, allowing each limited space on the rooftop to generate more power. We look forward through this competition to encouraging installers to use the most efficient products, to finding the best installers in Europe and to working hand-in-hand with them to realize end users' significant benefits from higher power generation, and what's most important, to jointly contributing to speeding up the process to reach carbon neutrality.
"We are thrilled to launch this campaign for the installers in Germany, Austria and Switzerland first to kick start our business together. We think it is fun for everyone to participate and in the end has the chance to get rewarded with a big company party sponsored by AIKO. We look forward to have a party with as many partners as possible," says Bernhard Weber, Director of Channel Marketing EU at AIKO.
All participants in the Installer Awards receive a branded T-shirt and cap and AIKO thanks them for their first order with 5 boxes of AIKO beer. Installers who receive a total of 30 kW can then carry out their next system check from the air with their own drone, and what's more, AIKO is throwing a "big party" for everyone who reaches an order volume of 1 MW. The highlight, however, is a 5,000-euro company party sponsored by AIKO.
"Looking forward to participating in AIKO Installer Awards 2023 with our highly motivated team! It would present both challenges and opportunities, not only for our young installers who have just entered the industry, but also for our experienced installers. I am excited to witnessing more of AIKO's high-efficiency products bringing more power generation to the rooftops," comments Levin Schober, Founder and CEO of Elite PV, one of leading German Photovoltaic installation companies.
The complete information about the competition is available at https://aikosolar.com/en/installeraward2023.
Installers who want to take part in the competition should send order confirmation, delivery note or invoice for their purchase of AIKO modules within the promotional period as well as complete contact and company details to: installeraward@aikosolar.com by January 15, 2024 at the latest.
A good opportunity to find out more about the AIKO product range is the company's roadshow, which is traveling in the pan-European region until mid-November. All dates and stations at: https://www.linkedin.com/company/aikoenergy/.
Are you ready? Join hands with AIKO, a company with the mission of "Empowering Global Energy Transition towards a Carbon-free Society", and contribute to speeding up the process to reach carbon neutrality.
About AIKO
AIKO is a global-leading clean energy technology company. Our business mainly focuses on the manufacture of photovoltaic products and all-in-one solutions for various scenarios, including solar cells, ABC (All Back Contact) modules, inverters, battery storage, energy management system etc. With the mission of "Empowering Global Energy Transition towards a Carbon-free Society", we are committed to pursuing ultimate technological innovation and speeding up the process to reach carbon neutrality.
For more information, visit www.aikosolar.com
Dit artikel is 29 september 2023 geplaatst door: AIKO